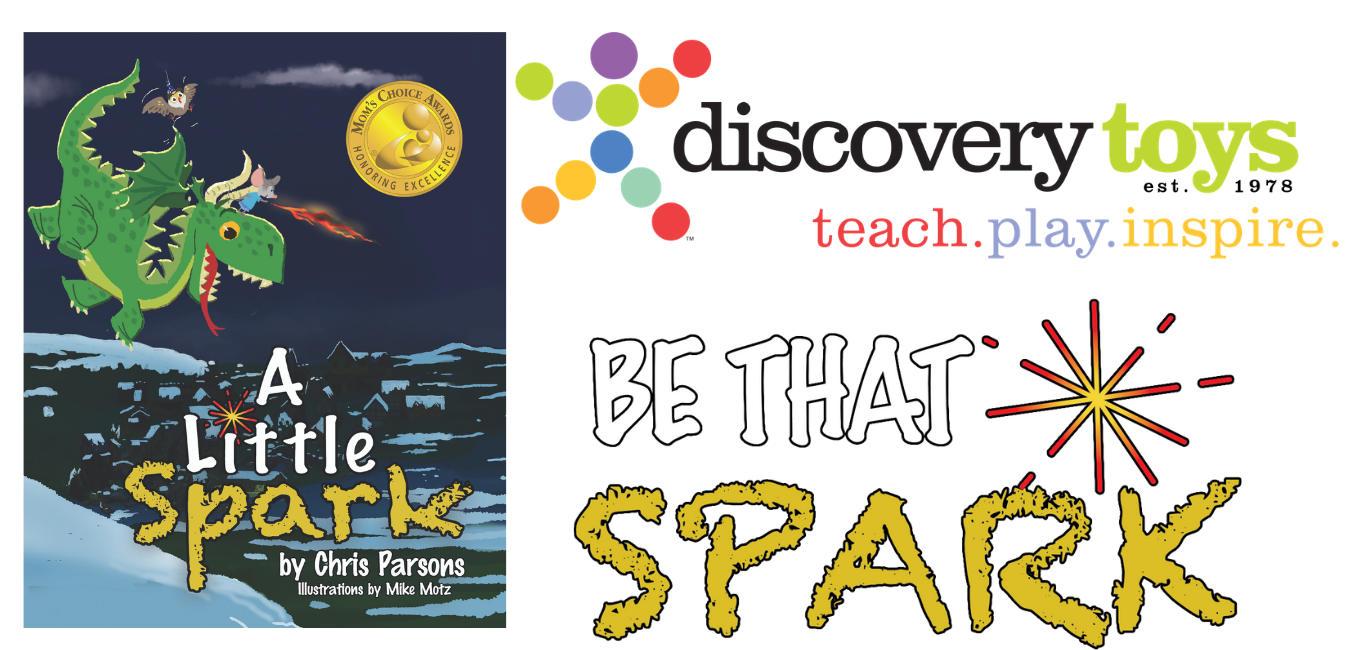 Children's book, A Little Spark, and Discovery Toys
Discovery Toys will be distributing Zuroam Media's children's book "A Little Spark" and supporting Zuroam Media's "Be that Spark" initiative.
Dallas, Texas - Premier learning toy company Discovery Toys is partnering with Zuroam Media to bring multisensory learning to children through children's book: A Little Spark.  With learning at the forefront of both companies' values, this partnership is bringing together a common vision of educating children through play.
A Little Spark brings multisensory experiences to the readers through:
QR codes throughout the book that bring the readers to a custom-made soundtrack to enhance the reading experience
Interactive tools such as coloring pages and stick puppets
A full-length soundtrack accompanied by illustrated music videos
An award-winning audiobook with sound effects and music

Discovery Toys products are designed with the understanding that children learn best through play. Birth to school-aged children learn through physically interacting with the environment, using their different senses to build new knowledge. "We are delighted to be working with Zuroam Media to offer A Little Spark to families throughout North America through our network of independent Play Advisors," said Jerry Salerno, CEO of Discovery Toys. "This multi-sensory experience aligns with our overall mission to make a difference in the lives of children with engaging kid-powered play."
"Zuroam Media is a strong proponent of Discovery Toys' Mission: Teach, Play, Inspire," said Chris Parsons, Zuroam Media founder. "Through reading A Little Spark, children will learn more than reading comprehension, they learn what it means to have self-worth, confidence, and many other important life lessons that are a part of our "Be That Spark" initiative."
The two companies intend to extend this distribution partnership to new books and educational content planned by Zuroam Media in the coming years. The sequel to A Little Spark is planned for early 2022.
About Discovery Toys:
Discovery Toys is the premier learning toy company dedicated to helping early childhood development through Play. A trusted brand for over 40 years, the company specializes in premium quality, kid-powered learning products for children ranging from newborns to school-aged children. Discovery Toys also prioritizes a play experience that provides children with the fundamental skills, curiosity, and passion that leads to learning success in their school years and beyond.  Discovery Toys products are available through their network of independent Play Advisors in the U.S. and Canada. 
Local Play Advisors can be found by calling 800-341-TOYS (8697) or visiting discoverytoys.net.
About Zuroam Media:
Zuroam Media is a small media startup founded by Chris Parsons in 2018. Their goal is to create stories that can be told in new ways through an experience that brings text, music, audio, and video together for young audiences. Their first production A Little Spark was released on Oct 1st. A Little Spark was awarded the prestigious Mom's Choice Award Gold Medal for best in family-friendly media, products, and services.
For more information on the Be That Spark initiative, please visit the website – bethatspark.com
For press inquiries, please contact colleen@otterpr.com
Media Contact
Company Name: Otter PR
Contact Person: Colleen Falco
Email: Send Email
Phone: 7727087631
Address:100 E Pine St Suite 110
City: Orlando
State: FL
Country: United States
Website: www.OtterPR.com