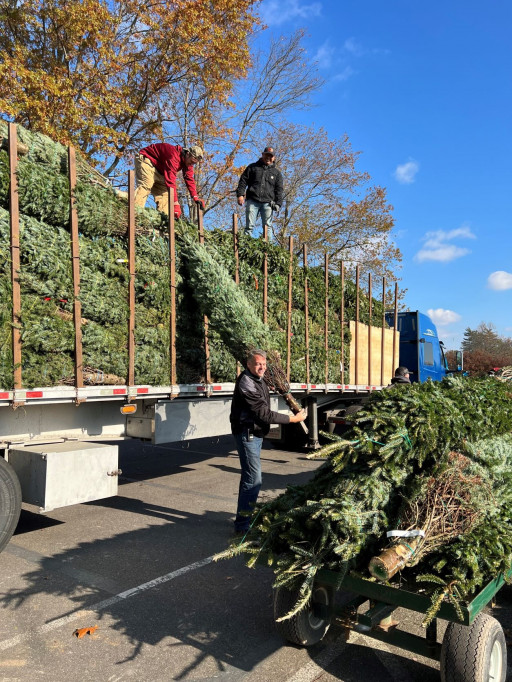 farm fresh real Christmas trees

A truck filled with farm fresh real Christmas trees getting unloaded at Hicks Nurseries

WESTBURY, N.Y. - December 1, 2022 - (Newswire.com)


Hicks Nurseries, Long Island's largest and premier garden center, brings in an astounding six thousand-plus real Christmas trees for the season. While many retailers are concerned about the shortage of live Christmas trees this year, the nursery assures it has enough farm-fresh Christmas trees to fill the demand.

"We source our trees from the top Christmas tree suppliers in order to have the very best options available for our customers," said Alison Caldwell, horticultural buyer for Hicks Nurseries. "Our premium trees are grown and sheared to be full and thick with extra branching for ornaments and lights." 

Christmas tree varieties available include:
Fraser Fir: the most popular choice among Christmas trees. It has soft, dark green needles with a silvery underside, excellent needle retention, strong branches and fragrance. 
Balsam Fir: a classic, iconic Christmas tree with soft, deep green needles. Known for its strong pine fragrance and shape.
Morin Blue Fir: has a double needle look and a bluish-green color. It has good needle retention and a strong fragrance.
In addition to its vast selection of trees in-store, Hicks Nurseries offers their top-selling Frasier Fir Christmas trees online for convenient curbside pick-up or delivery. The retailer also provides a complimentary fresh cut, trim, netting and car loading for every purchase in-store or online.
According to Hicks Nurseries, following these four key steps will ensure a long-lasting real Christmas tree:
Place the tree in water as soon as possible. The longer the time between when the tree is given a fresh cut and when it is put into water, the less ability the tree has to absorb water.
Check the water levels in the tree stand every day. The water should always be above the base of your Christmas tree trunk.
Add a tree life extension solution like Prolong directly to the tree's water. This solution helps your Christmas tree maintain its freshness. 
Avoid heat sources like fireplaces or heating ducts to prevent it from drying out.
For those preferring an artificial Christmas tree, Hicks offers a wide selection of pre-lit lifelike trees in sizes ranging from 4-14 ft., in addition to a spectacular selection of ornaments, holiday lights & décor, collectibles, wreaths and garland. Shop in-store for the full experience or online for their curated collection. 

ABOUT HICKS NURSERIES

Hicks Nurseries is Long Island's largest and premier garden center, family-owned and -operated since 1853. Dedicated to helping its customers achieve success in their homes and gardens, Hicks Nurseries provides expert and friendly advice along with an exceptional selection of quality products, including indoor and outdoor plants, outdoor furniture, planters, lawn care, seasonal décor including artificial Christmas trees and more. They also offer complete award-winning landscape design/build services. Hicks Nurseries is located at 100 Jericho Turnpike in Westbury, NY. Follow on social media @hicksnurseries and learn more at https://hicksnurseries.com/.


Contact Information:
Eleni Roselli
Director of Marketing
eroselli@hicksnurseries.com
516-334-0066 x 1239


Press Release Service by Newswire.com

Original Source: No Shortage of Real Fresh-Cut Christmas Trees at Hicks Nurseries