Lincoln, NE – Dentists advise patients to visit at least twice a year to check for signs of jaw/gum damage, perform dental cleanings, and discover if their underlying conditions need further treatment. They may refer patients to an orthodontist, a specialist who corrects tooth position and fixes jaw irregularities for functional and aesthetic reasons. 
Schoettger Orthodontics, orthodontist Lincoln has been providing personalized care for almost 40 years under the leadership of Dr. Bob Schoettger. He was one of the first in Lincoln to be certified as a Diplomate of the American Board of Orthodontics, an elective process requiring multiple written and oral examinations and presenting a series of treatment outcomes. Dr. Bob's son, Dr. Jared Schoettger, joined him in practice in 2015 and Dr. Anna Schoettger in 2022 to offer a comprehensive treatment approach and prescribe hundreds of smiles to the community. 
Digital orthodontics is an alternative for patients looking to straighten their crooked teeth in less time with more precision. Schoettger Orthodontics is one of the few SureSmile braces providers in Lincoln and surrounding communities. The iTero digital practice allows the orthodontist to scan the teeth for an accurate model, eliminating gooey impressions. Once they identify the areas of most contact in a bite, the patient views how their teeth could look after the orthodontist prescribes a treatment plan. Based on a patient's preferences, they can receive clear ceramic upper braces, stainless steel traditional brackets customizable with any color at each visit, or a new champagne finish for a more subtle look.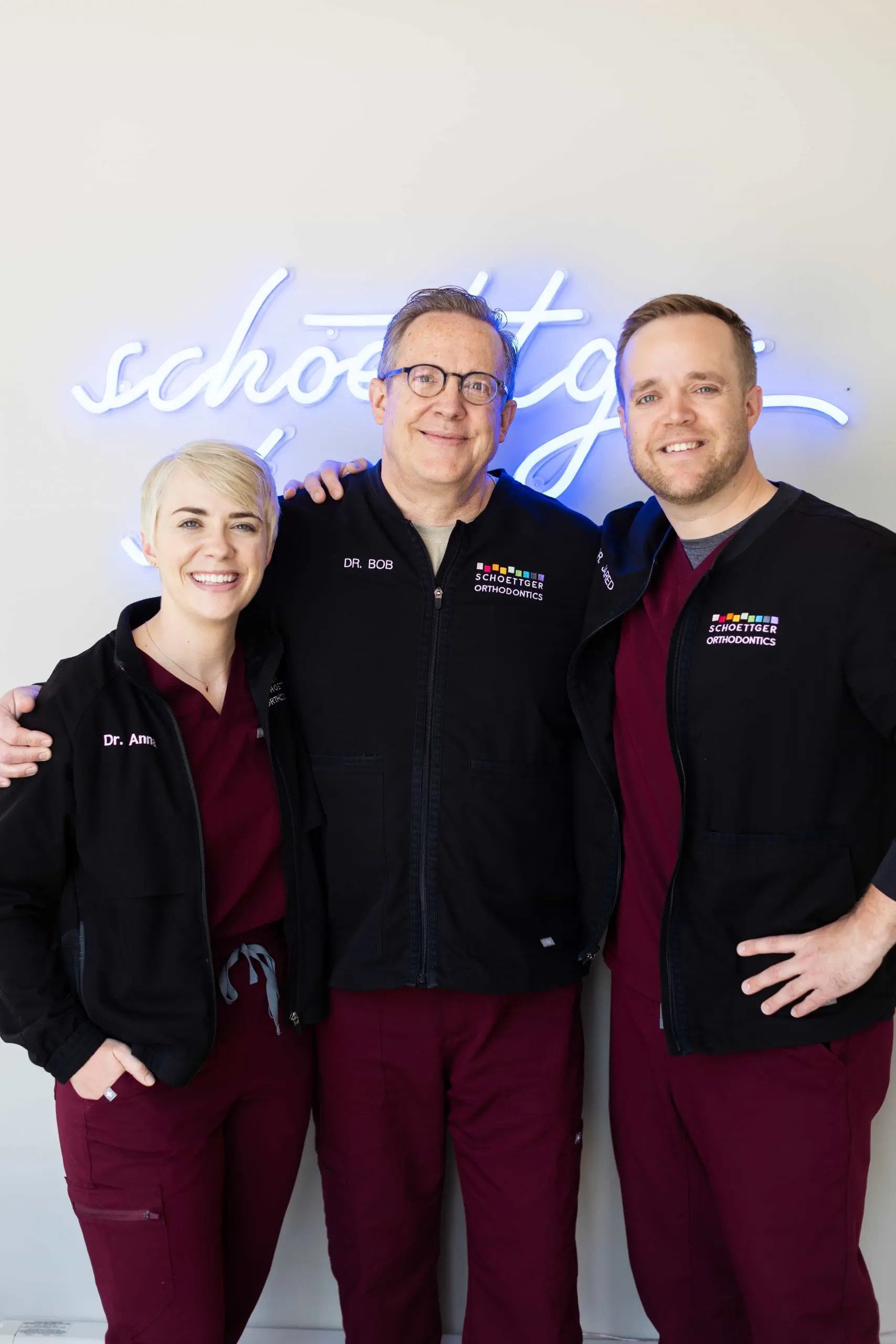 Invisalign is a nearly invisible way of getting the brightest smile thanks to clear trays that change a patient's tooth positioning over time without the metal wires or brackets from traditional braces. One of Invisalign's primary selling points is aesthetics because it is discreet, allowing teenagers and adults to maintain a natural appearance throughout their journey to straighter teeth. Schoettger Orthodontics is a Diamond+ Top 1% Invisalign Provider with an Apple and Android app for patients to track their aligner wear time, leverage use/care information, and take progress pictures. Since Invisalign Lincoln is easy to clean, it makes eating, drinking, or participating in daily activities uncomplicated. Treatment also requires shorter and less frequent in-office visits, unlike traditional braces. 
At age 7, children have a mix of primary and permanent teeth, necessitating an orthodontic examination to correct harmful habits, guide teeth into a more favorable position, guide jaw growth, improve self-esteem/appearance, and lower the risk of trauma to protruded front teeth. While only a few orthodontic problems need correction at age 7, the practice doesn't only use Schoettger Orthodontics-braces Lincoln and Invisalign treatment. An orthodontist prescribes interceptive orthodontics like the Herbst appliance, a rapid palatal expander (RPE), the pendulum, the nance, and a lower lingual archwire. 
Visit their website to learn more about orthodontics, or call (402) 423-8000 to schedule a visit. Schoettger Orthodontics is at 8000 South 13th Street, Lincoln, NE, 68512, USA. 
Media Contact

Company Name
Schoettger Orthodontics
Contact Name
Dr. Jared and Bob Schoettger
Phone
(402) 423-8000
Address
8000 South 13th Street
City
Lincoln
State
Nebraska
Postal Code
68512
Country
United States
Website
https://www.schoettger.com/