Is Silver the Next Target of Short Squeezers?
January 29, 2021 at 15:05 PM EST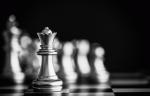 Forget about the Covid-19 pandemic; it seems the major mover of markets these days has more to do with investor forums like Reddit. Silver could be the next target, which could give funds like the Invesco DB Silver Fund (DBS) a boost. "Silver futures prices and shares of silver miners climbed...