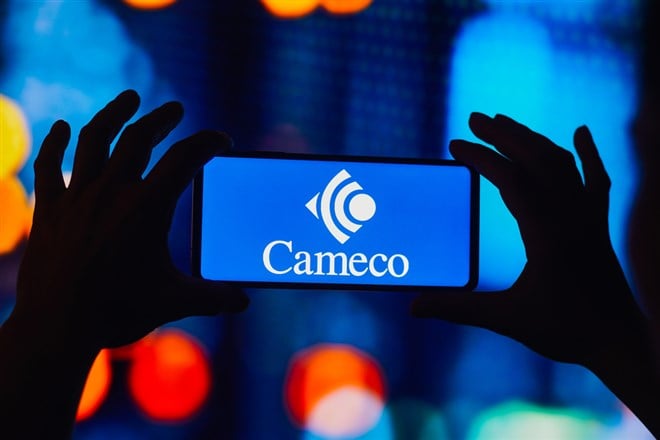 Cameco (NYSE: CCJ) is the second-largest uranium producer globally. The company mines uranium at its Saskatchewan, Canada-based Key Lake and Cigar Lake mines. It sells it primarily to utility companies that operate nuclear power plants.
Because uranium has been in a bear market since 2007, investors have had little reason to pay attention to Cameco and other uranium stocks for the past 15 or so years. However, some new trends in the energy markets are building the potential for a new bull run in uranium.
Uranium spot prices have been on the rise over the last few years. The current supply/demand backdrop and the changing public sentiment on nuclear energy make a new bull market in uranium a distinct possibility.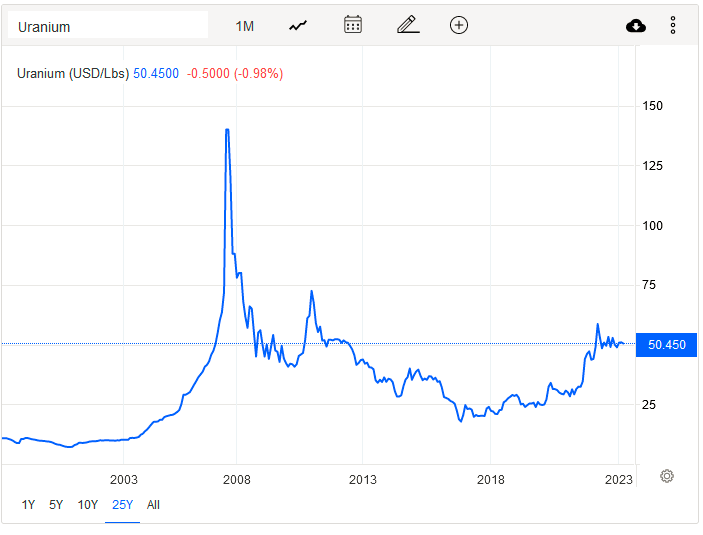 Public Opinion on Nuclear Energy Turning
As fossil fuel's economic and environmental costs reach a fever pitch, the world is aggressively searching for alternative energy sources. And while renewables like solar and wind have some promise, producing them ultimately requires burning natural gas or coal.
Enter nuclear energy, a carbon-free, around-the-clock power source, offering a much higher energy density than the current set of renewable energy sources. And despite its checkered history between the Chornobyl and Fukushima disasters, modern improvements have made it among the safest sources of power in the world.
Nuclear energy's checkered past has been a barrier to growth as a primary power source for the world. Put, there hasn't been sufficient political or social will from regulators and the business world to invest heavily in nuclear energy, especially in the United States, which hugely benefited from cheap energy due to the shale boom. 
However, now that the world is short on fossil fuel,s signposts emerge, such as famous voices in the climate change movement Greta Thunberg and Alexandria Ocasio-Cortez changing their tunes on nuclear energy. Award-winning director Oliver Stone recently directed a documentary about nuclear power.
The Supply and Demand Story
One of the main demand drivers for uranium is the number of nuclear power plants in operation. Power plants are the biggest uranium consumers; the more plants open, the higher global uranium demand will be. 
According to Cameco's presentation at the BMO Global Metals and Mining Conference, 57 new nuclear power plants are under construction globally, representing a 13% increase in the number of plants globally. But more significantly, many plants expected to shut down are now staying online and even upgraded to expand their capacity.
There's also another elephant in the room here, which is Sprott. Sprott runs the Sprott Physical Uranium Trust (OTCMKTS: SPRUUF), a Canadian-listed closed-end fund holding physical uranium. As investors buy more shares, Sprott goes into the physical market and buys uranium. 
Since starting the trust, Sprott is slowly eating much of the excess supply in the uranium market. The trust's 62 million pounds of uranium is equivalent to roughly a third of a year's global uranium demand. And that's only after the trust has existed for fewer than two years.
The Rundown on Cameco
Like most commodity miners, Cameco's stock price is heavily tied to the price of its underlying commodity, uranium. Put, miners have a cost of production, and they make profits when they can sell the commodity above that cost of production.
In the case of Cameco, it's been uneconomic to produce for a while now, forcing the company to slash its production level significantly. As such, Cameco's been in limbo for a while, sitting by and waiting for higher uranium prices.
But as you can see in the chart, Cameco's annual production volume spiked 70% in 2022, largely due to Russia's invasion of Ukraine shaking up the energy markets and pushing the spot price of uranium up. Additionally, Cameco went through a tough time in 2021 due to the series of starts and stops at the company's mines.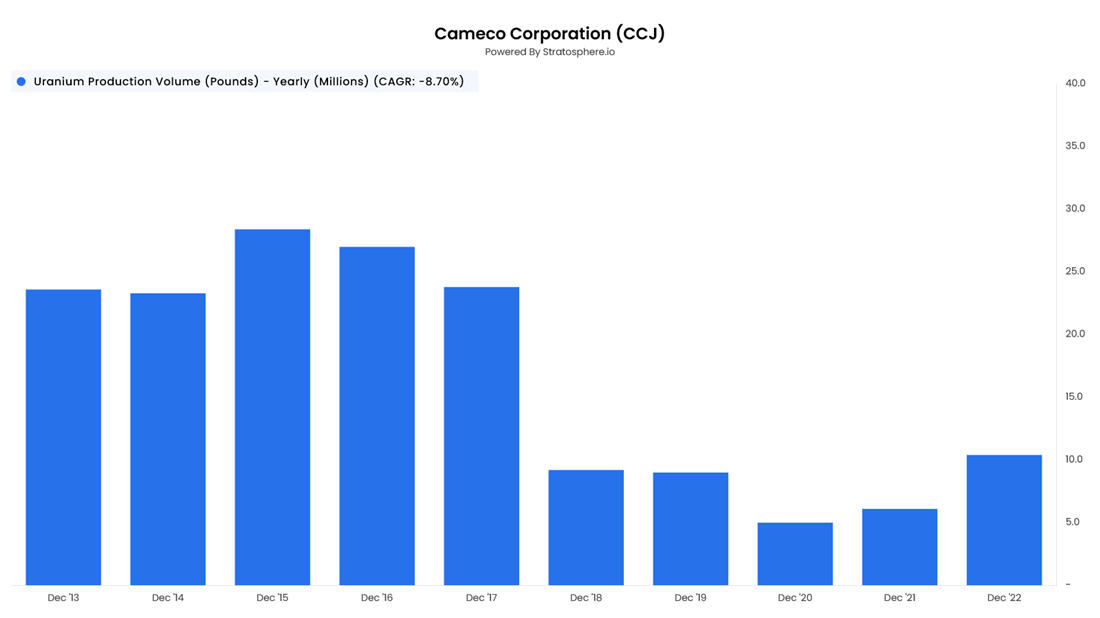 And while Cameco booked a marginally positive (0.8%) operating margin in 2022, the company's first positive year since 2019, there's likely much more to come. 
Unlike in oil and gas, where spot prices are so influential, the uranium market largely operates based on long-term commitments, locking in a price. And as such, Cameco has been locking in these profitable rates to ensure profitable operations going forward while ramping up volumes.
In 2023, the company plans to produce about 20 million pounds of uranium, roughly double 2022's numbers, all while the prices of the long-term commitments continue to rise.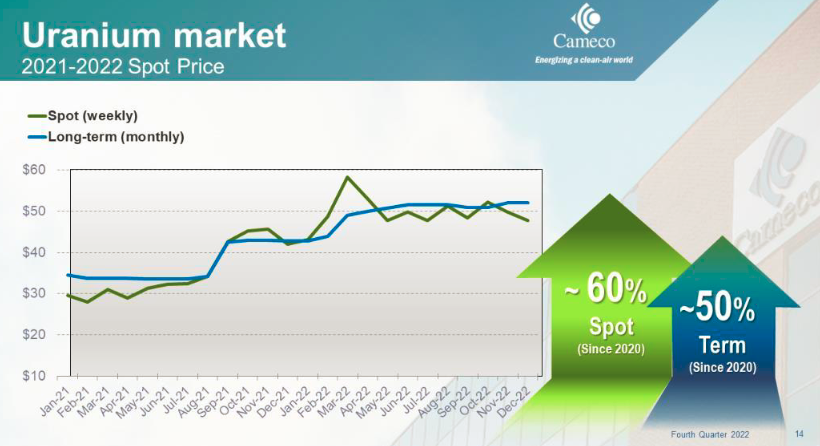 Cameco's stock had a solid start to the year, up 32% from December lows. The stock, once again, is within spitting distance of its significant multi-year resistance zone between $29 and $30. The stock has made several failed attempts to hold above this level and just recently got rejected in February.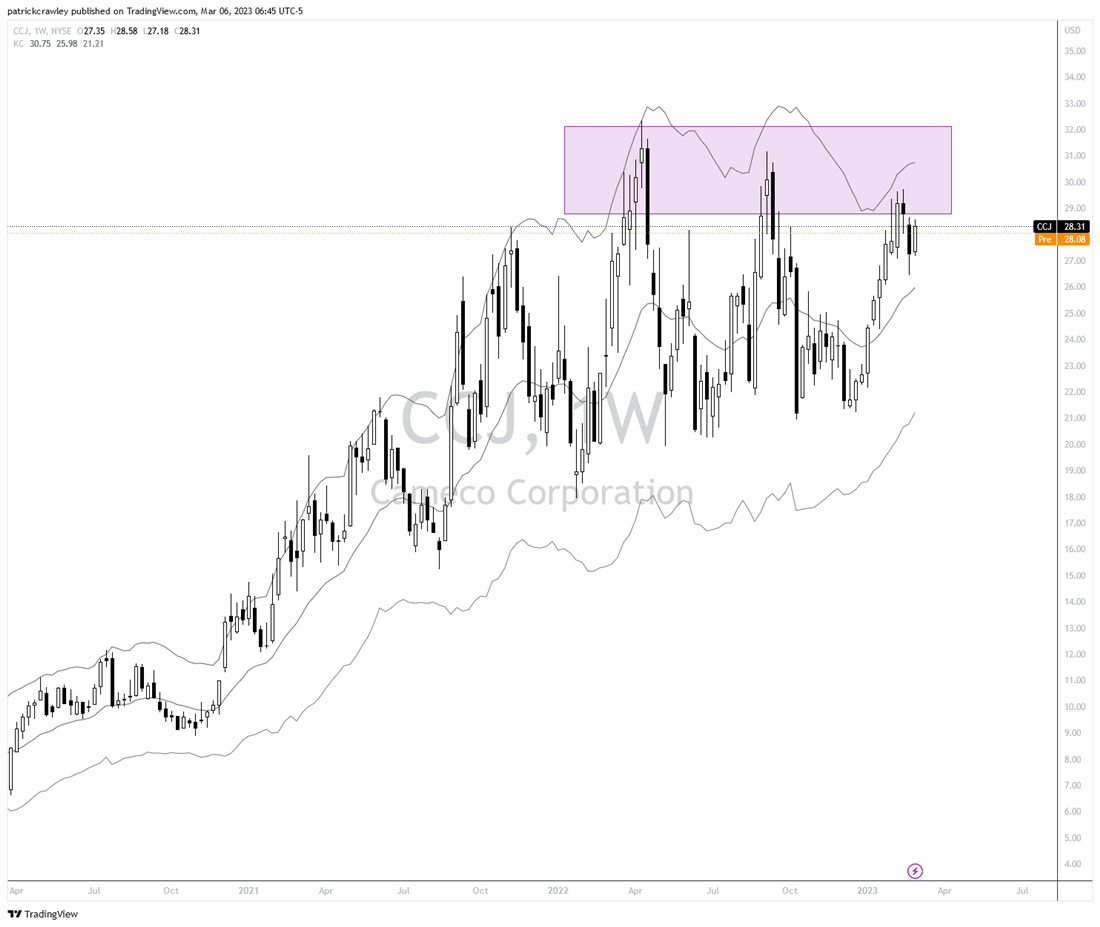 The company doesn't report earnings until Friday, April 28. However, the stock has been known to move on news related to the conflict between Russia and Ukraine and macro energy market data. Keeping a close eye on how the stock reacts to significant headlines can give you a clue as to how the market will respond to the earnings report next month.
Bottom Line
In conclusion, Cameco is well positioned to benefit from the growing demand for nuclear energy and is capturing significant upside as uranium prices continue to rise. 
Despite the challenges the company faced throughout the uranium bear market, the company is turning the corner and plans to increase production at profitable rates dramatically.