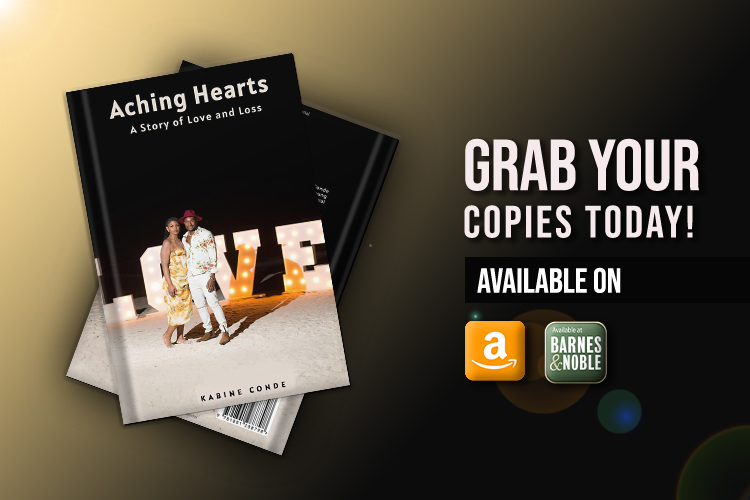 Get ready to experience the most heartwarming and thought-provoking love story you'll ever come across through Robin Carr and Kabine Conde. 'Aching Hearts' by Kabine Conde is a story that will stay in your hearts forever.
The story is about two passionate souls who are in love with each other and think of dreams and aspirations for a future together. Unlike other love stories, ' Aching of Hearts' is a story of two people from different religious and cultural backgrounds. Christian women and Muslim men fall in love, face many hurdles, and fight several battles just to be together.
This story covers all the aspects of the difficulties one has to go through because of society's norms and beliefs. Everyone around Robin and Kabine has opinions and raises thousands of questions about their relationship. They brought up a time when they had to make unimaginable decisions regarding their relationship, and separation was caused by the concerns raised by their families and friends. Despite all the questions being raised, they continued their journey of love. They will further learn to navigate their way through challenges and obstacles to be together.
The best thing about the book 'Aching Hearts' is that Readers will feel a sense of connection and understanding that can be hard to come by when you're feeling lost and alone.
In today's era of fabricated love to show the world how much in love you are but fail to face the consequences and fail to fight for it because it is too much to ask, 'Aching Hearts' will provide you with a refreshing story of true love and guide you through the difficulties of the journey to love and make you realize that putting efforts and fighting for it is worth it.
Here's a sneak peek into what our readers think of 'Aching Hearts':
"I'm eagerly waiting for this book to come because I had the exact same situation, my husband was from a different religion, and my family was and is still very religious. It was a tough time for both of us… all kinds of stuff were crossing our minds; maybe this is it. We will never get married, but eventually, everything falls into place, right? Now we are happily married. We look back and feel grateful for today and that all the suffering was worth it. I don't know about you guys, but I cannot wait to read this one!" - Bowen Higgins
To know more about Robin Carr and Kabine Conde's love journey full of emotions, please check out the Amazon link and get your copy of 'Aching Hearts.'
Media Contact
Company Name: KABINE CONDE
Contact Person: KABINE CONDE
Email: Send Email
Country: United States
Website: www.kabineconde.com